Waterbury, Connecticut
Free Rehab Centers
Home
»
Connecticut Free Rehab Centers
» Waterbury
Free Alcohol, Drug and other Rehab resources in Waterbury, Connecticut.

We help people take the first steps toward getting help for their drug and alcohol usage and having drug-free lifestyles. To contact an alcohol/drug abuse counselor, please call 1-800-780-2294

Finding hard to locate resources for assistance with alcohol, drug and other rehab related problems is what FreeRehabCenters.com is all about. We scoured thousands of government and non profit resources to find the most affordable, free, and sliding scale resources. View our listings below.
---
Search Results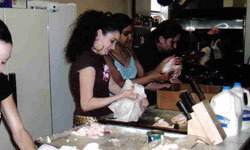 88 Grandview Avenue 2nd Floor
Waterbury, CT - 06708
(203) 573-7500
This is an outpatient alcohol and drug rehab facility. This is a sliding scale fee program. Contact for discounts based on income or Medicare / Medicaid payments. Full description: Intensive outpatient detoxification for alcohol and drugs, including opiates for adults with addictive and dua See more
Website
---
Area Treatment Centers
Due to the small number of rehab options in Waterbury we have listed some area listings below. All are within 30 miles of Waterbury.
Brewster Road
Bristol, CT - 06011
(860) 585-3420
Inpatient 3-5 day alcohol detox treatment. Also offers detox treatment for opiates (opium, heroin, morphine, and codeine), and certain prescription drugs.Eligibility: Age 18+; Detox for pregnant women by individual assessmentPayment: Medicaid; Medicare; Private insuranceFee: Set feeApplication: Initial assessmentInpatient Alcohol Detoxification, Inpatient Alcohol D... See more
Rehab Center Location: 10.41 miles from Waterbury

Email
Website
---
Merritt Hall
Middletown, CT - 06457
(860) 262-6321
Inpatient Alcohol and drug detox programs. 5-7 day inpatient detoxification program for alcohol, heroin, or prescription medicine. Clients must meet level of care criteria. Will detox pregnant women for alcohol and prescription medicine. Pregnant women dependent on heroin must begin a methadone maintenance program. Eligibility: A... See more
Rehab Center Location: 14.02 miles from Waterbury

---
130 Division Street
Derby, CT - 06418
(203) 732-7222
Hospital will detox for alcohol and opiates only. No inpatient detox for cocaine or marijuana. Payment: Medicaid; Medicare; Private insurance; Private pay; SAGA Medical Fee: Contact at the phone number provided for the current fee ... See more
Rehab Center Location: 15.12 miles from Waterbury

Website
---
1400 Whitney Avenue
Hamden, CT - 6517
(203) 248-2116x
Location services description: Substance abuse treatment. Treatment received at location: Residential long-term treatment (more than 30 days), Outpatient Types of patients treated: Adolescents... See more
Rehab Center Location: 15.38 miles from Waterbury

Website
---
54 East Ramsdell Street
New Haven, CT - 6515
(203) 387-0094
Location services description: Substance abuse treatment. Treatment received at location: Residential short-term treatment (30 days or less), Residential long-term treatment (more than 30 days) Types of patients treated: Persons with co-occurring mental and substance abuse disorders, Persons with HIV/AIDS, Gays and Lesbians, Seniors/older adults, Women, Criminal justice clients... See more
Rehab Center Location: 15.52 miles from Waterbury

Website
---