Suicide Prevention Resources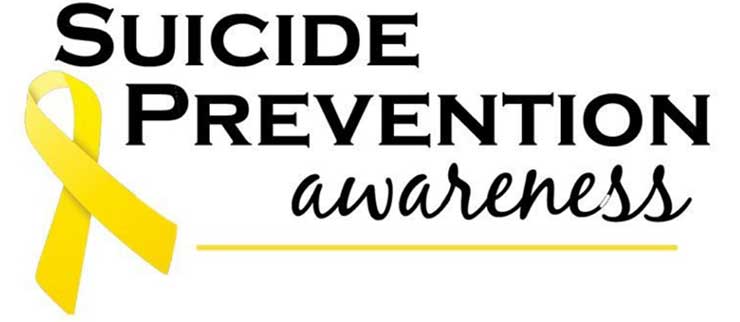 Suicide is a major public health problem, according to the Centers for Disease Control and Prevention (CDC). Its effects don't just injure the individual, but can be harmful to families, communities, and friendships.
Suicide is a complex issue, as there are many factors that contribute to the decision of someone who thinks they have no choice but to end their life. However, there are things we can all do to prevent suicide and mitigate the factors that may lead to someone feeling that suicide is an option. That's why agencies like the CDC, college campuses, and veteran prevention efforts are working hard to provide free national suicide prevention resources that promote coping strategies, increase access to resources, and enhance mental well-being so that the people we love have the support they need for years to come.
Suicide facts show some staggering effects this public health epidemic has on our nation. According to the CDC, suicide is
In the top 9 leading causes of death among people aged 10 to 64
The second leading cause of death for people aged 10 to 14 and 25 to 34
There are also some groups that have higher rates of suicide than others, with rates varying among race and ethnicity, and where someone may live. For example, veterans and American Indian/Alaskan Native populations experience higher rates of suicide.
Key suicide prevention strategies mitigate suicide by:
Identifying people most at risk and train others how to respond to crises
Strengthening housing and financial support
Creating environments that protect individuals from harmful means, support healthy workplaces, and reducing community substance use and resources
Improve mental health access and suicide resources
Promote social support with peers and communities
Increase coping and problem-solving skills
Reduce harm, intervene, and prevent future risks
U.S. Suicide Stats
The CDC reported in 2020:
46,000 died by suicide
12.2 million adults seriously considered suicide
3.2 million made a plan
1.2 million attempted suicides
1 person died by suicide every 11 minutes
Suicide rates increased 30 percent since 2000
90 percent of those who attempted suicide and survived did not go on to die by suicide
The Effects of Suicide
Suicide not only impacts our families, with the loss of a loved one, and the risk of serious injury, but it also impacts:
Loved ones: The well-being of friends, loved ones, coworkers, and the community who experience grief and loss, shock, anger, guilt, and signs of depression and anxiety. They may even be at a higher risk of suicide themselves
Economically: The financial cost of suicide costs the nation $490 billion in medical costs, lost work, value of life, and quality of life costs.
Suicide Among College Students
Suicide is a major cause of concern for colleges and universities across the U.S. According to the Suicide Prevention Resource Center, suicide is a leading cause of death among college students nationally. Many colleges and universities across the nation, supported by the Substance Abuse and Mental Health Services Administration (SAMHSA), are taking action by recognizing the importance of addressing suicide, promoting suicide prevention programming, and increasing access to resources.
Key suicide facts among college students:
7.7 percent of students seriously considered suicide, compared to 9 percent of the general population
2.3 percent made a plan, compared to 3.1 percent of other college-aged students
1.2 percent attempted suicide, versus 2.2 percent of teens their age not enrolled in college.
There are a number of risk factors associated with suicide, with one or more characteristics present increasing the likelihood of suicidality, including:
Behavioral health disorders that include self-harm and depression
Substance use and addiction
Hopelessness
Loneliness
Risky behaviors
Poor coping skills
Interpersonal problems
Chronic physical illness
Physical, sexual, or psychological abuse
School or work problems
Insomnia
Chronic stress
Mental health problems at home
Family violence
Lack of support
Limited access to health and behavioral healthcare
Access to lethal means (firearms)
Bullying and discrimination
Racism
Stigma associated with getting and receiving mental healthcare
There are also a number of protective factors that can reduce the likelihood of suicide, including mental wellbeing, strong social and community support, cultural or religious beliefs, strong problem-solving skills, a close relationship with teachers and mentors, and access and availability of healthcare and mental health resources.
Given that most mental health issues occur in the college age range (18-24), it is particularly important that colleges and universities support young people in their mental health. They are doing this by:
Promoting social networks and connectedness
Improving access to mental health services
Identifying and supporting students at risk of suicide
Responding to suicide
Differing Rates of Suicide Among Various Groups
There are some groups of people who have higher rates of suicide than others, according to the CDC, including:
Veterans
Tribal populations
Middle-aged adults
Certain Industries and occupations
People with disabilities
Age
Middle-aged adults (aged 35 to 64) account for 47.2 percent of suicides

Suicide was highest in the middle-aged group among Non-Hispanic American Indian or Alaskan Native men

Older adults (aged 75 or older), account for less than 10 percent of all suicides. However, men over the age of 75 have the highest rate compared to other age groups
Youth and young adults (aged 10-24) account for 14 percent of suicides. While youth rank low in age groups of suicide, suicide is the third leading cause of death among young people. Other key information among youth and young population:

Suicide is the second leading cause of death in the age group 10-14
Youth have higher rates of emergency room visits for self-harm with an estimated 217,447 visits in 2019
Suicide attempts were reported most among girls compared to boys, and Native American youth
Emergency department visits among girls was doubled compared to 2001
People with Disabilities
The CDC report that adults with disabilities are three times more likely to report suicidal ideation compared to non-disabled adults. Research also suggests that people experiencing disabilities also report increased mental distress.
The CDC is working with some states, like Vermont, to reduce suicide disparities by reducing access to lethal means and creating more protective environments. That includes working with primary care providers to promote safe storage of firearms and strengthening delivery and access to care.
Industry and Occupation
Certain industries and occupations are at greater risk of suicide, depending on type of work activity and place of work. For instance, rates of suicide are higher among men who work in mining, quarrying, oil and gas extraction, and construction work, as indicated in the CDC data table below:
Industry

Suicide Rates Among Males
Per 100,000

Suicide Rates Among Females
Per 100,000

Mining, quarrying, oil and gas extraction

54.2 percent

No data available

Construction and Extraction

49.4 percent

25.5 percent

Agriculture, fishing, forestry, and hunting

36.1 percent

No data available

Transportation and Material Moving

30.4 percent

12.5 percent

Transportation and Warehousing

29.8 percent

10.1 percent

Other manual services, like mechanics

39.1 percent

No data available

Installation, Maintenance and Repair

36.9 percent

No data available

Protective Services

No data available

14 percent

Healthcare Support

No data available

10.6 percent
The CDC is working with certain states, like Massachusetts, to reduce the risk of suicide in certain occupations through the implementation of peer programs, identifying at risk groups, and increased access to healthcare and provider suicide education.
Geographic Region
People who live in rural areas, and tribal communities may disproportionately experience risk factors associated with suicide. Suicide rates decrease in more urban areas, and increase in more rural areas, according to CDC data. For instance, the suicide per 100,000 varies depending on population density:
10.9 percent in a large metropolitan area
12.5 percent in a large fringe metropolitan area
15.3 percent in a medium metropolitan area
17.2 percent in a small metropolitan area
18.3 percent in a non-metropolitan area
20.5 percent in a rural area
Suicide also varies depending on race and ethnicity. Rates are highest in rural areas among non-Hispanic Asian American males at 59.6 percent and non-Hispanic white males at 37.9 percent per 100,000.
The CDC is also working with states like North Carolina and Vermont to identify and support people at risk, reducing access to lethal means and providing gatekeeper training.
Suicide Among Veterans
Veterans experience suicide at a rate that is 52 percent greater than non-veterans. This is likely due to the extreme stress and trauma veterans face in active service, higher rates of substance use, and significantly greater mental health experiences, such as PTSD.
For instance:
1 in 10 soldiers returning from active duty in Iraq and Afghanistan abused drugs or alcohol
More than 10 percent of US veterans struggle with substance use disorder
33 percent of veterans seeking treatment for addiction also have PTSD
20 percent of veterans who served in Iraq or Afghanistan suffer from either major depression or PTSD
Suicide Among Minority Groups
Rates of suicide are higher among certain racial and ethnic groups, and disparities exist among gender, with men having the highest rates of suicide.
The CDC reports the following rates of suicide per 100,000 population:
Ethnicity

Men
Rates per 100,000 People

Women
Rates per 100,000 People

Non-Hispanic American Indian/Alaskan Native

36 percent

11.7 percent

Non-Hispanic White Americans

27.2 percent

6.9 percent

Non-Hispanic Native Hawaiian or Other Pacific Islander

20 percent

*No information available by the CDC

Non-Hispanic Multiracial

14.5 percent

5 percent

Non-Hispanic Black

13.1 percent

2.9 percent

Non-Hispanic Asian

9.5 percent

3.7 percent

Hispanic White

13.1 percent

3.0

Hispanic Asian

9.6 percent

*No information available by the CDC

Hispanic Multiracial

7.9 percent

3.1 percent

Hispanic Black

4.6 percent

1.8 percent

Hispanic American Indian/Alaskan Native

2.9 percent

*No information available by the CDC
Certain minorities within this table also experience higher rates of substance misuse. For instance:
Among Asian Americans:

8 percent of Asian Americans have substance use disorder, compared to 7.4 percent of the total population
6 percent have an illicit drug disorder, compared to 3.2 percent of the total population

Native Americans have experienced significant historical trauma and, consequently:

Experience higher rates of PTSD, causing domestic violence and mental health disorders, including depression, PTSD, and low self-esteem
Suicide is the leading cause of death for American Indian/Alaskan Native people aged between 10 and 34
Suicidal ideation is high among children, impacting nearly 35 percent of children aged 9 to 12
10 percent of Native Americans have substance use disorders compared to 8 percent of white people.
Suicide Rates by State
In 2020, suicides by state are listed in the table below. States with the highest suicide rates are:
Wyoming (32 percent per 100,000)
Alaska (28 percent per 100,000)
Montana (26 percent per 100,000)
New Mexico (24 percent per 100,000)
Idaho (23 percent per 100,000)
| | | |
| --- | --- | --- |
| STATE | RATE | DEATHS |
| Alabama | 16 | 793 |
| Alaska | 27.5 | 204 |
| Arizona | 17.6 | 1363 |
| Arkansas | 19 | 583 |
| California | 10 | 4144 |
| Colorado | 21.5 | 1302 |
| Connecticut | 9.3 | 364 |
| Delaware | 12.3 | 124 |
| Florida | 13.2 | 3135 |
| Georgia | 13.7 | 1491 |
| Hawaii | 12.9 | 184 |
| Idaho | 23.2 | 419 |
| Illinois | 10.5 | 1362 |
| Indiana | 15 | 1024 |
| Iowa | 18 | 552 |
| Kansas | 18.4 | 531 |
| Kentucky | 17.7 | 801 |
| Louisiana | 13.7 | 642 |
| Maine | 16.4 | 234 |
| Maryland | 9.2 | 585 |
| Massachusetts | 8.4 | 618 |
| Michigan | 14 | 1444 |
| Minnesota | 13.1 | 758 |
| Mississippi | 13.9 | 410 |
| Missouri | 18.2 | 1125 |
| Montana | 26.1 | 300 |
| New England | 14.9 | 283 |
| Nevada | 18.2 | 603 |
| New Hampshire | 16.4 | 234 |
| New Jersey | 7.1 | 679 |
| New Mexico | 24.2 | 516 |
| New York | 8 | 1642 |
| North Carolina | 13.2 | 1441 |
| North Dakota | 18.2 | 135 |
| Ohio | 13.8 | 1644 |
| Oklahoma | 21.9 | 869 |
| Oregon | 18.3 | 833 |
| Pennsylvania | 12.6 | 1694 |
| Rhode Island | 8.5 | 94 |
| South Carolina | 16.3 | 868 |
| South Dakota |  21 | 186 |
| Tennessee | 17.2 | 1220 |
| Texas | 13.3 | 3924 |
| Utah | 20.8 | 651 |
| Vermont | 18.1 | 117 |
| Virginia | 13.5 | 1202 |
| Washington | 15.2 | 1212 |
| West Virginia | 19.4 | 354 |
| Wisconsin | 14.5 | 866 |
| Wyoming | 30.5 | 182 |
Source: https://wonder.cdc.gov
What Are the Warning Signs of Suicide?
There are certain behaviors that someone may be thinking about suicide, according to the National Institutes on Mental Health. There are three key elements to look out for:
Talking about wanting to die, guilt or shame, and/or being a burden to others, or seeking revenge
Feelings like emptiness, hopelessness, sadness, having no reason to live, agitation, anxiousness, unbearable emotional or physical pain
Changes to behavior look out for

Researching ways to die
Thinking about death often
Making a plan
Socially withdrawing
Showing rage
Saying goodbye to friends or family
Giving away important possessions
Changes to eating (eating more or experiencing a reduced appetite)
Putting affairs in order like making a will
Taking risks like driving dangerously
Extreme mood swings
Changes to sleep: sleeping more or less
Using drugs or alcohol more often
These are signs of extreme stress and if they apply to you, or someone you love, you should seek help immediately. See below for steps to take to help someone at risk and an extensive list of suicide resources,
What Are the Risk Factors for Suicide?
Suicide happens to all kinds of people from all walks of life. While there are people at greater risk, there are a number of other factors that contribute to a greater risk of suicide such as:
Depression, or other mental health disorders
Substance misuse and addiction
Chronic pain
Family history of mental health disorders or substance use
Violence at home, including sexual abuse
Access to firearms
Family history of suicide, or exposure to suicidal behavior among peers
Stressful life events such as grief, legal problems, losing your job, or financial difficulties
Having recently been released from prison
How to Identify Someone at Risk for Suicide
There are various screener tools used by emergency departments and other providers used to assess a person's risk for suicide, such as the Patient Safety Screen (PSS-3), the Ask Suicide-Screening Questions (ASK) Toolkit, Patient Health Questionnaire (PHQ-9), the Columbia Suicide Severity Rating Scale (C-SSRS), and the Suicide Assessment Five-Step Evaluation and Triage (SAFE-T).
Each of these screening tools ask a variation of the following questions:
In the past few weeks, have you wished you were dead?
In the past few weeks have you had little interest or pleasure in doing things?
In the past few weeks, have you felt that you and your family would be better off if you were dead?
Have you had thoughts of killing yourself in the last week?
Have you thought about how you might do this?
Have you had these thoughts and had the intention of acting on them?
Have you ever tried to kill yourself?
Have you done anything or made any preparation to end your life?
Research has shown that screening all patients can double the number of patients identified as being at risk. Other ways to identify people at risk are through the use of electronic records. For instance, the VA partnered with NIMH to predict suicide risk among veterans receiving VA healthcare.
Steps to Help Someone at Risk
For the public, there are five steps to be the one person to help someone who may be at risk of suicide, and may be experiencing emotional pain:
1. Ask: "Are you thinking of killing yourself?"
2. Keep them safe: Reduce access to lethal means. That may mean locking a firearm away, or better still storing it away from the person's home.
3. Be there: Listen to what the person is saying, how they are feeling, and that may help to reduce the risk of suicide.
4. Help them connect to resources: Contact the 988 Suicide and Crisis Lifeline if you, or someone you know, is experiencing a mental health crisis and you think they need support.
Call or text 988
Chat via 988lifeline.org
Text 741741
5. Follow up: stay connected with the person after the crisis to ensure they are OK and have accessed mental health resources.
List of National Suicide Prevention Resources
We have compiled an extensive list of resources for families, youth and children, parents, educators, and those who have lost loved ones on suicide prevention, coping with loss, and crisis information. You'll find specific resources for racial, gender, and sexual minorities, too.
Crisis Lines
Call or text 988
Chat or visit the website: 988lifeline.org

Text HELLO to 741741 for adults
Text Jason to 741741 for youth

Dial 1-800-273-8255 and press 1
Text 838255 to connect with a VA responder
Veterans Crisis Chat line, visit: https://www.veteranscrisisline.net/get-help-now/chat/
Veterans Suicide Resources
Operation Reach Out: Free suicide prevention app provided by Military Community Awareness, designed to prevent suicide among military personnel and veterans. Developed by a team of suicide prevention experts and designed to encourage people to reach out for help and stay connected with others
Wounded Warrior Project: supports injured veterans to transition to civilian life
Suicide Prevention Action Network: This suicide prevention site offers information and resources for veterans and their families. The site includes multiple resources for those who may be at risk for suicide
Youth Suicide Resources
Other Mental Health and Suicide Prevention Resources